Lab of the future / Collaborative, meeting and in-between spaces
A former chemical production plant is being transformed into the state-of-the-art R&D and management campus and HQ of healthcare company Novartis, Basel, Switzerland. Based on a master plan created by Vittorio Magnago Lampugnani, the campus has unique architecture by some of the world's most prominent architects, including Alvaro Siza, Frank Gehry, Fumihiko Maki, SANAA and Diener & Diener. Satyendra Pakhalé was invited by Rahul Merhotra to conceptualize the meeting, waiting and in-between spaces to enhance cross-disciplinary collaboration and so facilitate innovation in the advanced research centre: Virchow 16. With a dual structure, it has five floors of lab zones set alongside six floors of offices, meeting zones and technical services. Pakhalé researched the challenges of facilitating collaborative working conditions and conceived various architectural spaces by addressing the needs of the centre within the multifunctional laboratory building with its focus on molecular biochemistry research. Pakhalé designed accessible collaborative spaces on various floors. These included the East Meeting Room on the ground floor, the waiting spaces on the first floor, quiet spaces, meeting spaces, in-between spaces, cafeteria and coffee areas, lounge areas, private rooms, the library and signage. Pakhalé's interior architectural design reflects the contemporary and future interpretation of the lab and ways of collaborating among teams and professionals from various disciplines. Through the inclusion of in-between spaces to facilitate the collision of ideas, a healthy, human and accessible atmosphere is created and a distinctive research space evolves.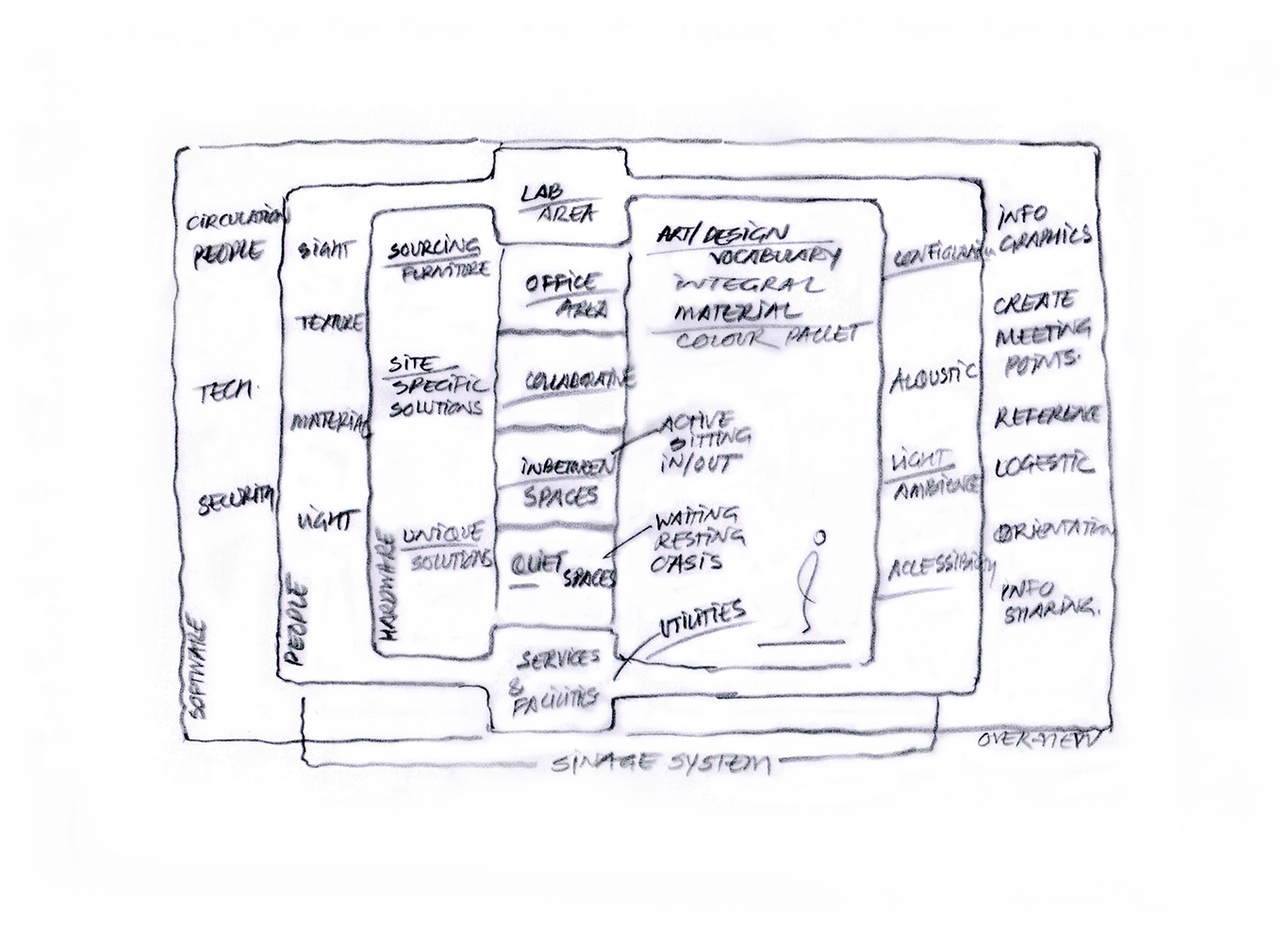 Design analysis sketch by Satyendra Pakhalé illustrating the complexity and multiplicity of the collaborative working conditions analysed from the point of view of people, software, hardware and activities. This led to the conception of various architectural spaces that address the needs and near-future development of the research centre within the building with its focus on research into molecular biochemistry.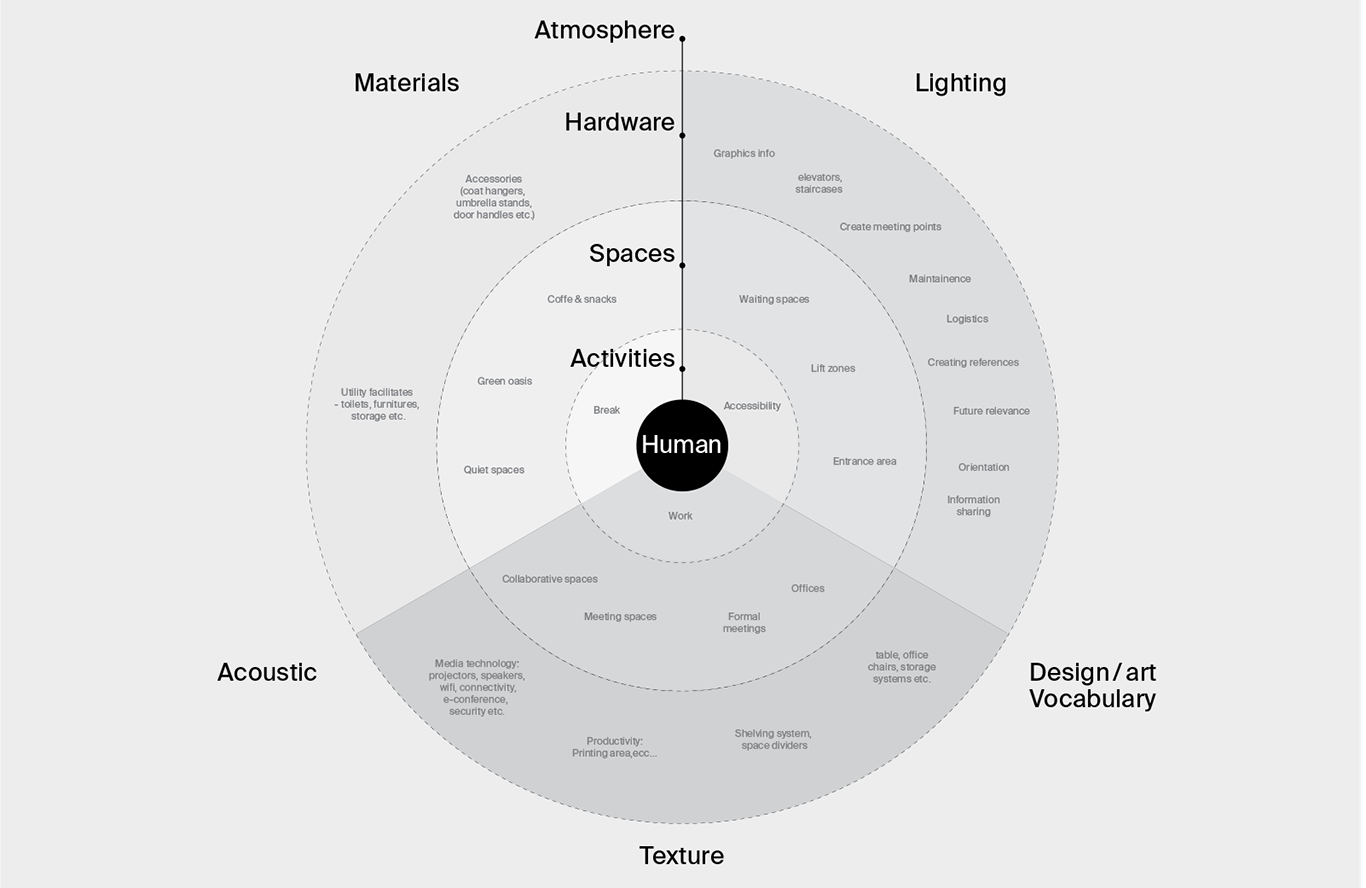 Design analysis diagram by Pakhalé of the workings of the multi-facetted research laboratory. The open space in the architecture allowed for flexible layouts of furniture and objects, encouraging creative encounters among users.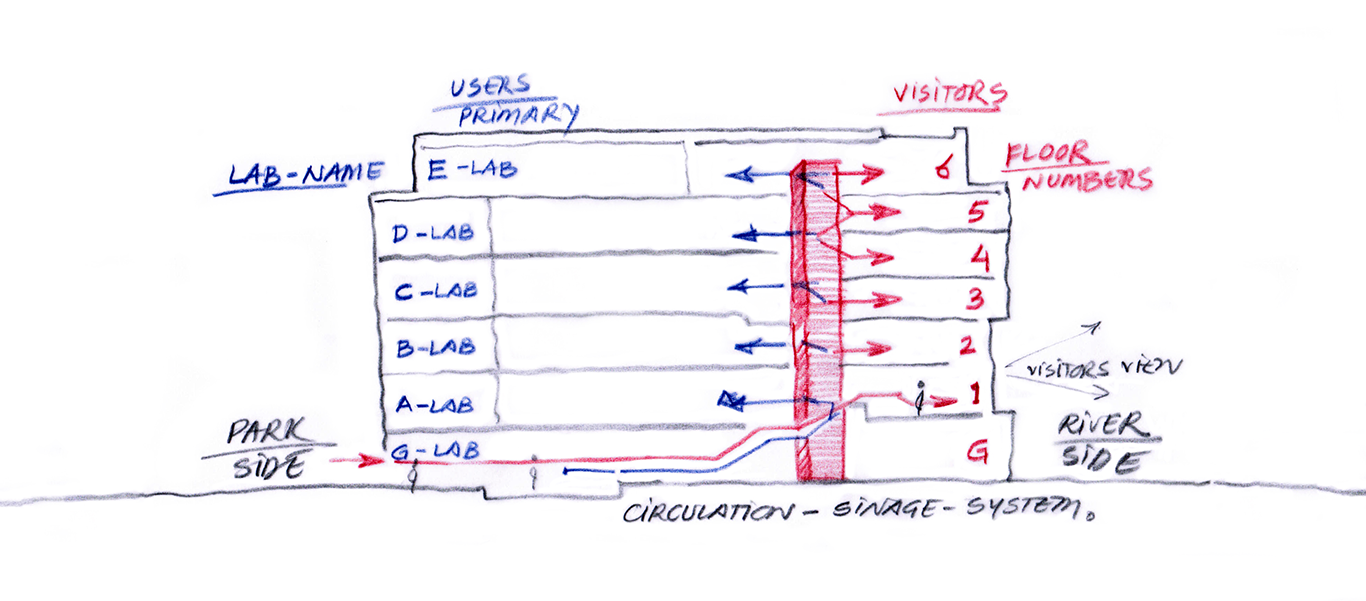 Design sketch of the signage system for orientation and circulation throughout the architectural space.